In the beginning, Sora Kara My Nanny was quite...ghey xD
Reading chp 1 & 2 of Sora Kara My Nanny made me realize this manga could have gone in a different direction had this been featured in say a BL magazine. I mean look at these suggestive images! XD
Joe: Be gentle ~ I'm illegal ;D
Victor: OMG WHY AM I ON THE BOTTOM - I MEAN, BE KIND! I MEAN, HELP!
Leo: This isn't what it looks like
Next panel:
Leo: OH GAWD THIS IS NOT WHAT IT LOOKS LIKE!
Allen: I need a smoke after smtg like that~
Leo: STFU KID! Stop suggesting things that could land me in jail!!!
Leo: Uh...what the fark do you think you're doing?
Allen: About to show you a whole new (illegal) world sweet buns <3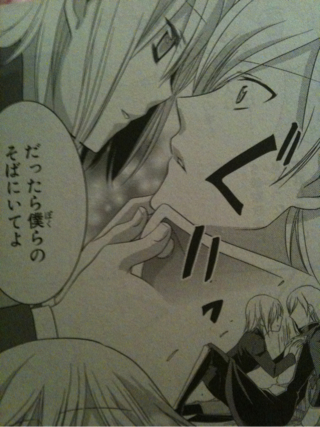 Allen: Now let's just get you comfortable ~ ^3^ (let me stroke your man nipples while my hands are here <3)
Leo: This isn't happening... :U
Allen: And prepare yourself to say hello to my little curious friend here
Leo: Ohohoho ~
HIS FACE! (this is truly the next panel after you see raepface Allen xDDD)
Lol to the random shojo couple pose xD
Do you see it? Is it just me!? XD